Get Your peas In a Row
5 Key factors To Propel Your Business Forward
A New Book by Annabelle Beckwith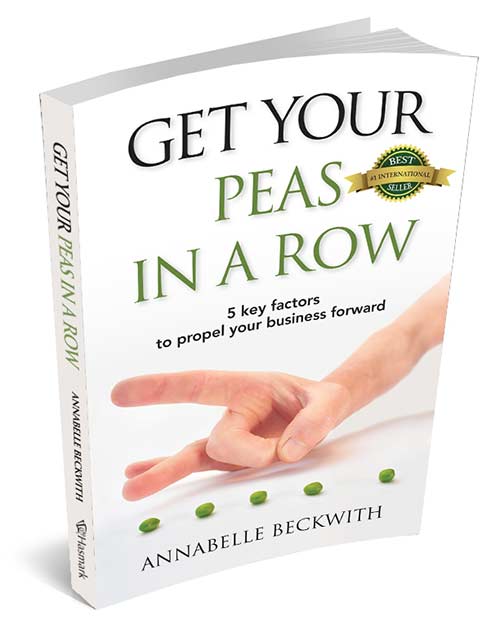 This is a book specially for entrepreneurs and business owners who don't follow the herd,  who are ready for transformational scale-up growth and change, and who are prepared to think differently to achieve their personal and business goals….
Where does the 5 Peas Framework™ come from?
The five Peas stem from the author's experience and observation of the human nature of people working in all levels of all organisations – and indeed in the broader community outside the workplace.
These five 'truths' underpin it all:
PERSONAL: The inner work comes first: mindset and self-understanding are crucial, and learning must be ongoing. We're all in a state of something: growth, stagnation or decay. Which is it?
PURPOSE: People don't just want to be working on the 'what' and the 'how', they want to understand and feel connected to the reason 'why'.
PEOPLE:  as human beings we have a finite set of responses and emotions: it's who we are as a species. And in life and business it's wiser to understand and work with this than to try to fight against it… or pretend it doesn't exist.
PROCESS: If it's not replicable, it's not scalable. If it's not efficient, it's pointless. And if people don't understand the 'why' behind it, they probably won't bother to follow it properly.
PARADIGMS: Your culture is what it is, not what you claim it to be. It exists anyway, so better design the culture you want than let the strongest people in your team determine what it will be in your absence.
5 KEY FACTORS TO PROPEL YOUR BUSINESS FORWARD
After over 20 years of working all over the world with some of the planet's best known fortune 500 companies, with scaling entrepreneurs, successful growing SMEs and with business support agencies and organisations.
Get Your Peas In a Row focuses on 5 key principles – The Five Peas Framework ™ 
Get Your Peas In a Row focuses on 5 key principles that form a flexible and practical framework for sustainable personal and business growth.
Throughout the book, you're given questions to consider and activities to undertake all of which will give you a clearer insight into your own personal purpose and direction, and how to grow your business sustainably and successfully.
The 5 Key Principles:
Personal
Yes, it's Personal.
The first of the 5 'P's focuses on YOU as a business leader:
Clarity around your personal goals and how these align with your business.
Courage: beating impostor syndrome and building the confidence to lead.
Capability: understanding what you need to learn, which skills you can leverage for the future… and what you need to leave behind because it no longer serves you.
Character: deciding the legacy you want to build for the long term.
Purpose
Defining Your Purpose:
Our second P focuses on deeper levels of your business: defining your purpose, values, vision and mission, before moving on to practical elements of developing your strategy for growth, and communicating all this in a way that everyone understands and buys into
People
Set Goals and Manage Your Team's Performance:
This third P is often when things start to go pear-shaped. How is your business structured now, and what does it need to look like to support your future plans? How do you set goals and manage your team's performance…and build the leaders below you? How does everyone communicate, especially cross-functionally?
Process
Understand the Rationale Behind Your Processes :
Without robust processes, systems and the right tools for the job, no business is scalable. But it's not a matter of 'set it and forget it': your team must understand the rationale behind your processes, and be committed to following and improving them as you move forward.
Paradigms
Building a Company Culture :
Culture eats strategy for breakfast, they say – and they're right. Our final P is about actively building a company culture that supports all of the above, with practical approaches that can ensure it lives and breathes and isn't just corporate jargon on a wall poster.
Preparing for Business Growth?
Before you start any journey you need to know exactly where you are. My Business Growth Readiness Checklist will tell you.
Fill out the form and be ready!